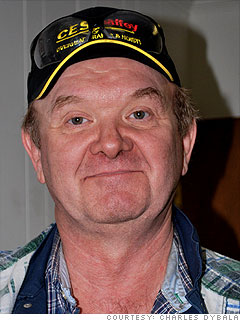 Old Job: Detroit maintenance technician - $29/hour
New Job: Maintenace technician - ~ $22/hour
Hardest thing to give up: The familiarity of life up north, where my family is. I had to uproot everything.
"I'm 55 years old, and I'm starting my life all over again.
I was working in Michigan as a maintenance technician. In December 2007 we found out the company had sold General Motors some bad parts, and the fines meant they had to cut production. I was laid off a week later, along with about 20 other employees from the 300-person plant.
At the time, it seemed like the economy was doing well. In the auto industry it's not uncommon to be laid off since its seasonal work. But it was still a shock.
I waited until the new year to start my job search. I placed my resume online, and a company called Gaffey/Allcranes called me in January. They asked me to move to Houston, but I said 'no' since I hoped to stay closer and keep my house.
But by March money was getting tight. So when the company called again in February and asked me to move to Louisiana, I couldn't turn it down. We uprooted our lives, and I started here March 10 with a 25% pay cut from my previous $29 an hour.
We tried to keep paying our mortgage up north, but it didn't work. We filed Chapter 7 bankruptcy.
It was great for us to file bankruptcy and start all over again financially. It hurts your credit rating, but then you can move on. When I suggested it, my wife was all, 'We won't be able to buy anything!'
I said, 'Well, sweetheart, we couldn't anyway.'" -
as told to Julianne Pepitone
NEXT: Blake Harrison - 47% pay cut
Last updated January 12 2009: 3:07 PM ET
Email
|
Print
|

Digg this story
|

RSS