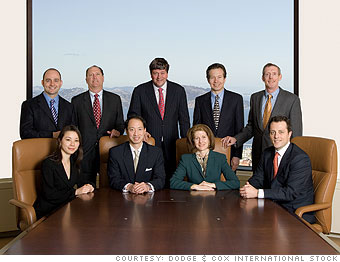 Seated, L to R, Dodge & Cox's Keiko Horkan, Roger Kuo, Diana Strandberg, Mario DiPrisco; Standing, L to R, Yasha Gofman, C. Bryan Cameron, John Gunn, Charles Pohi, Gregory Serrurier
1-year return: -33.9%
5-year return: 6.1%
Expense ratio: 0.64%
ETF alternative:
Vanguard FTSE All-World Ex-U.S. (
VEU
)
Our lineup wouldn't be complete without an international stock fund, and Dodge & Cox International Stock makes the grade even though holdings like AIG and RBS fueled a 47% loss in 2008.
"It's unusual for Dodge & Cox to make substantial mistakes," says Morningstar analyst Gregg Wolper, who adds, "Their overall process is still in place."
Even after the dismal 2008, the fund has returned 6% annually for the past five years, compared with 3% for the MSCI EAFE index.
As a stand-in, try Vanguard FTSE All-World Ex-U.S.

NEXT: Pimco All-Asset

Last updated June 15 2009: 11:01 AM ET
Data as of June 1, 2009. Five-year return is annualized.