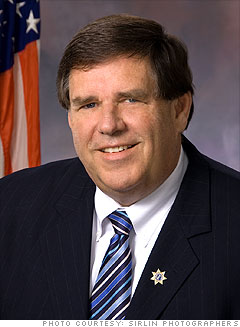 Don Meyer needs a vacation.
Median pay:
$38,400
% who say their job is stressful:
58%
Looking for a challenging and stimulating work environment? How about working with convicted felons? Keeping ex-cons in line is certainly no easy task, but the work can be rewarding. Probation or parole officers help parolees and probationers get back on their feet, with everything from rehabilitation plans to education and employment arrangements.
But it's not just about helping people. A lot of former felons end up doing repeat performances or skipping town. Their probation officers need to track them down, testify in court and help decide whether to throw them back in the slammer. It's no surprise that some "clients" can direct anger toward their POs.
"I once was in the middle of a hostage incident" said Don Meyer, chief probation officer of Sacramento County, Calif. "I didn't sleep for two days after that. It makes you think, man, I might be better at computers."
NEXT: News reporter
Last updated October 29 2009: 4:28 PM ET
Source:
PayScale.com
.
How
Payscale.com
defined high stress and low pay jobs: Starting from a database of over 2000 jobs, Payscale used data from over 36,000 respondents who ranked their jobs for quality of life factors, and chose those requiring a bachelor's degree or higher where the national median pay is less than $65,000. The survey was conducted between Aug 10, 2009 and Oct. 1, 2009.