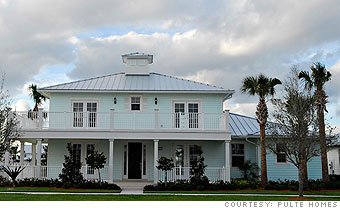 A new home in the Mallory Creek development
Type of development:
Medium-priced single-family homes and townhouses
Number:
500
Price:
$240,000 to $600,000
With all the housing market problems in Florida, where plunging prices and high foreclosure rates are the norm, there are still a few bright spots. In Jupiter, Fla., DiVosta Homes, a division of Pulte Homes, is in the midst of building a 500-home community.
Called Mallory Creek, the development includes townhouses starting at 1,400 square feet and single-family homes ranging up to 3,600 square feet. Currently, 200 homes are occupied, reported company spokesman Ryan Marshall, and another 50 houses are in various stages of construction. The final 250 are expected to be completed by next year. "It's defied the odds of what's happening right now in south Florida," Marshall said.
Marshall attributed part of the success of Mallory Creek to its location in a 2,000-acre area called Abacoa that's being developed under a master plan. The design incorporates a downtown with shops, restaurants, a workout center and other urban amenities. And because it features many different home styles and price points, there is a greater diversity for the community, from young singles and families to empty-nesters.
"It appeals to a wide range of buyers," said Marshall.
NEXT: Charlotte, N.C.
Last updated April 07 2009: 10:14 AM ET
Email
|
Print
|

Digg this story
|

RSS