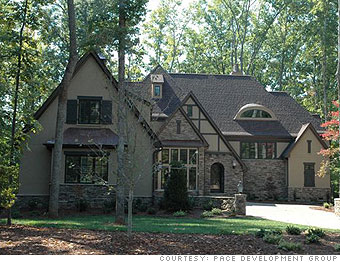 A high-end home at The Bromley, outside Charlotte, N.C.
Type of development:
Very high-end, single-family homes
Number:
121
Price:
$1.5 million to $2 million
North Carolina markets never went through a bubble phase, according to Steven Pace, founder of Pace Development Group. As a result, the housing market slowdown has only lightly touched the market.
In December, home prices had fallen only 7% compared with 12 months earlier, according to the S&P Case-Shiller Home Price Index, compared with 18.2% for the rest of the nation.
Pace's firm is developing a high-end property just outside of Charlotte, called the Bromley. It will consist of 121 lots of custom homes, and the first two properties are nearly complete; the remaining lots will be developed as they sell.
"Builders have to work really hard to get people to make a decision," said Pace. "If someone doesn't need to buy, if they have the option not to, they probably won't because they lack confidence."
As a high-end developer, Pace depends on jumbo loan providers to finance his customers' mortgages. That has been difficult lately as many lenders have been hesitant to make these loans.
But that situation is easing. Bank of America, the huge, Charlotte-based bank, announced last week that it had money available and a willingness to issue jumbo loans at competitive interest rates.
Underwriting standards would not loosen appreciably, but qualified borrowers could finance $1.5 million in loans with 20% down and $2 million with 30% down, according to Vijay Lala, a product manager director for BofA.
NEXT: San Francisco
Last updated April 07 2009: 10:14 AM ET
Email
|
Print
|

Digg this story
|

RSS