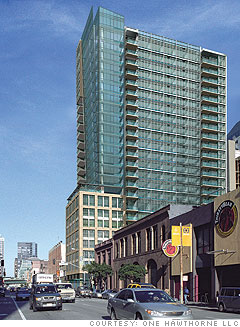 A luxury condo south of Market Street in San Francisco.
Type of development:
Luxury downtown condominiums
Number:
165
Price:
Not yet determined
The loneliest man in town used to be the Maytag repairman. Today, it's a condo builder - in San Francisco, at least.
There's just one condo in development going up in San Francisco right now: the Hawthorne Street Condominiums. It broke ground south of Market Street last year and now "San Francisco has no other cranes in the air," said publicist Alan Mark.
He said that the city's inventory of new homes is rapidly being depleted, and that by the time Hawthorne opens in 2010, it will be one of the only places to buy a new home.
The construction is eight stories above ground and will top off at 25 stories and have 165 units of luxury apartments. Nearby are restaurants, clubs, museums and the financial district, said Ezra Mersey, one of the partners in the project.
"It's near things that people who like to live in cities like to be near," he said.
California state regulations prevent condos from being sold before a level of completion has been reached, so there have been zero sales at the Hawthorne so far.
NEXT: Sunsites, Ariz.
Last updated April 07 2009: 10:14 AM ET
Email
|
Print
|

Digg this story
|

RSS