With 1 in 4 homeowners underwater, many pundits predict a flood of people walking away from their homes. 5 readers discuss why they are - and are not - sticking around.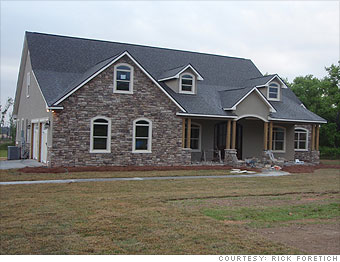 The Foretich house in Mississippi
Almost 25% of homeowners, or 10.7 million borrowers, were "underwater" on their mortgages during the third quarter, according to First American CoreLogic. Another 2.3 million are near that drowning point, where you owe more on your loan than your home is worth.
A basic cost-benefit analysis predicts that these people will abandon their homes and accept foreclosure. But there is little data measuring whether that logic holds true. In fact, Eric Johnson, a business professor at Columbia University, believes it doesn't. After years of studying behavioral economics - essentially the economics of choice - he argues that people will simply not make such rational decisions.
"There are two effects that suggest [walk aways] won't happen so easily," he says. "The first is the endowment effect. People tend to value their own house above its market price. Owners don't want to sell at a loss. They have what we call a loss aversion."
The second is that people weigh the importance of immediate outcomes more heavily than long-term effects. Walking away involves upfront expenditures of time, money and effort, while the benefits of walking away are back-loaded.
"People are impatient and weight present costs and benefits more, so they will walk away less often than we might think," Johnson says.
In the following pages are some homeowners who have thought hard about the costs and benefits of walking away from their mortgages.
NEXT: Won't walk: Rich Foretich