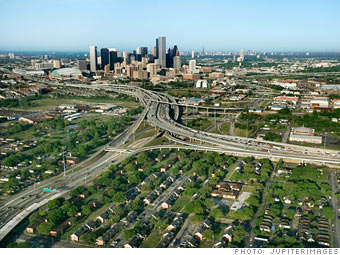 Foreclosure rate:
1 for every 153
Change from 2008:
Down 31.3%
Despite the city's rapid growth, constant building to feed the demand kept home prices affordable all through the boom. The median price for a home sold during the first three months of 2009 in Houston was still only $138,500, according to the National Association of Realtors. Homebuyers did not need to rely on toxic mortgage products, which carry high default risks.
Future foreclosure risk:
Low. Even though delinquency rates crept up recently, they're still a lot lower than the national average. Plus, the number of repossessed homes for sale has actually dropped since a year ago, according to First American CoreLogic. Buyers are snapping up foreclosed homes, keeping the housing market strong. A growing population also helps. "Strong demand moderates risk," said Fleming.
NEXT: Slowing: Boston
Last updated August 13 2009: 6:12 AM ET