Of the country's 20 largest cities, these six posted the fastest year-over-year growth and decline in their foreclosure rates during the first six months of 2009.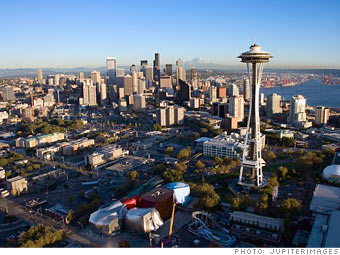 Foreclosure rate:
One for every 107 housing units
Change from 2008:
Up 72%
The housing bust arrived late in Seattle; home prices continued to swing upward all the way through July 2007 when they finally peaked, according to the S&P/Case-Shiller Home Price index. Prices have plunged since then, down 22.6% from their high.
That drop has triggered a rapid increase in foreclosure filings, faster than any other major city. But since the increase was up from a low base, Seattle is still relatively unscathed, overall.
The housing market could rebound quickly, according to Fleming. "It's down because of economic distress," he said. Once job losses end, the city's very diverse and modern companies should drive a quick recovery.
Future foreclosure risk:
Low. Delinquencies may be up but they are still around half the national average and very few actually progress to the foreclosure stage. The inventory of bank-owned properties is only 0.2% of all housing units, according to First American CoreLogic, exerting little drag on the market.
NEXT: Growing: Minneapolis
Last updated August 13 2009: 6:12 AM ET