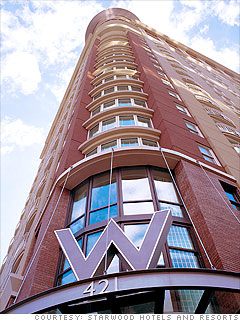 Location:
Downtown San Diego
Stars:
3
Labor Day Weekend rate
$153
An early California satellite of the New York City-based chain that caters to affluent hipsters, the "W" quickly became a chic gathering spot. It's just a few blocks from the harbor and near the Gaslight Quarter and it numerous clubs, bars and restaurants.
The hotel features a spa, heated outdoor pool, fitness center and a roof-top "beach bar." The concierge will arrange transport to local attractions, such as the area's excellent beaches, the world-famous San Diego Zoo and even nearby Mexico.
Default:
The owner, Sunstone Hotel Investors, announced in June that it would default on a payment on its $65 million loan and would let the property be repossessed by its lender. Declines in both business and holiday travel cut into room rates and pushed down occupancy and the property is now worth less than its debt, according to Sunstone's CFO. It continues to take in guests and operate normally.
NEXT: St. Regis Monarch Beach Resort