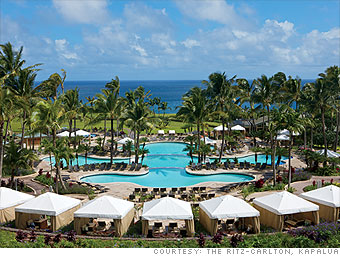 Location:
Maui, Hawaii
Stars:
4
Labor Day Weekend rate:
$299
This slice of the American Paradise forms part of a 23,000-acre pineapple plantation. There's plenty to do here with two golf courses, a triple-tiered swimming pool and ocean beaches. There's also great pampering in the 14,000-square-foot spa with 15 private rooms.
The hotel went through a recent renovation that left rooms with new marble baths, native Hawaiian paintings and other decorations and spacious lanais. There's also a new fitness center with yoga and Pacific views.
Maui has been the island of choice for chic island travelers for many years. Its ideal year-round climate with moderate rainfall, relatively sparse population density and striking scenery are the big attractions.
But the economy has been keeping business -- especially corporate customers -- away. The drop-off in group travel has hurt the hotel hard.
Default: The majority owners, an investment group headed up by Goldman Sachs and Gencom, defaulted on a $260 million loan in April, but the Ritz-Carlton, a division of Marriott, continues to run the inn.

NEXT: The Wigwam Resort