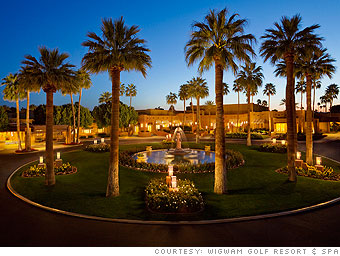 Location:
Litchfield Park, Ariz.
Stars:
3
Labor Day Weekend rate:
$79
The Wigwam opened in 1929, and the grounds remain lovely, with meandering pathways and desert-scapes of saguaro and other cacti, palm trees and cottonwoods. The sunny Arizona weather enables guests to enjoy great golfing with 54 championship holes. There are also nine tennis courts, and two pools with water slides.
The resort lies in a northwestern suburb of Phoenix well away from the hustle of the city. But a glut of hotel rooms in the Phoenix area and a drop in pricing have hurt the Wigwam's profits.
Default:
The resort was set to be auctioned off in early July, but the action was postponed after the owners filed for bankruptcy. The case is now before a court and the parties may try to negotiate a settlement on the $65 million debt.
NEXT: Loews Lake Las Vegas