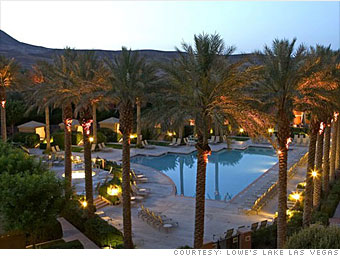 Location:
Henderson, Nev.
Stars:
3
Labor Day Weekend rate:
$96
This resort hotel lies nearly 20 miles from the Las Vegas strip. There are water sports of all kinds here -- kayaking, fishing and swimming -- but also golf, tennis and a floating skating rink.
The Moroccan-themed decorations set off the plush guest rooms where visitors enjoy such amenities as flat-screen televisions, terry robes and high-speed wireless internet.
But the recession has tempered Sin City and hotels are competing with each other to slash prices on rooms, meals and entertainment in order to get people through the casino doors.
Default:
Loews transferred title to its lender, Wells Fargo, in June. The bank had already advanced Loews more than a half million to keep the resort running after Loews and the majority investor -- an undisclosed private party -- missed payments on a $117 million loan. A Loews spokeswoman attributed much of the hotel's financial problems to the severe drop-off in corporate meetings, which represents about 50% of Loew's business.
NEXT: The Watergate Hotel