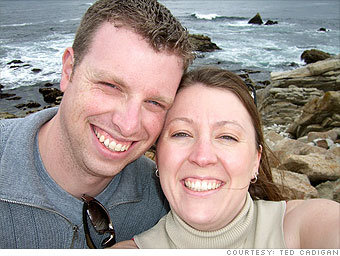 Ted Cadigan, 29, and his wife Kristin, also 29. He works in sales for Fedex and she's is a physical therapist.
Location: San Francisco, Calif.
Property: 4 bed, 2 bath, 2,200 s.f.
Price: $550,000
We're ecstatic about the way home prices have gone. We live across the San Francisco Bay in Contre Costa County, and when my wife and I started looking, all our budget would buy was a three-bedroom, 1,600-square-foot house.
Instead, we were able to afford a 2,200-square-foot house that would have cost $880,000 two years ago.
We actually were ready to buy late last year, before the new credit was created. Then, we were looking at the credit that had to be paid back. So when we heard that the government was going to come out with a new one that was refundable, we decided to hold off.

Shortly after the new credit was announced in March, we closed on the house. We claimed the credit the next month when we filed our taxes and received a check eight weeks later.
The house was cost right at our absolute limit of $550,000, but it had roof damage. The house is about 40 years old, and it had never been replaced. Thanks to the credit, we were able to afford the repair, which cost $12,000.
The credit really helped us out.

NEXT: Alex Bauer