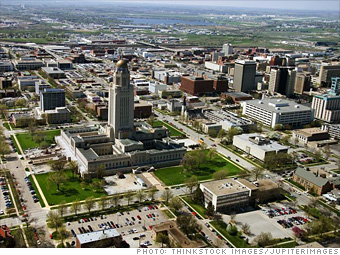 Foreclosure rate: One in 2,417 homes
Percent increase: 240%
The Lincoln area is hurting for jobs, as a glut of state and federal employees find themselves without enough work, according to area realtor Cheryl Duval of Century 21.
"We're no Detroit, but the workforce problem has definitely hurt us," Duval said.
And that doesn't bode well for foreclosures. Already Lincoln saw itself get unexpectedly hit, and if workers can't get jobs, the number will continue to skyrocket. In fact, many experts now say more people are losing their homes due to joblessness than exotic mortgages.
"It feels like everyone is broke," she said. "We just don't have the jobs to match the skills here."
Nearly 40% of home sales in 2009 have been foreclosed properties, while new homes accounted for "next to nothing," Duval said.
Plus, she fears that the bitter Nebraska winter will deal another blow to the labor and housing markets.

NEXT: 1st runner up: Gulfport-Biloxi, Miss.

Last updated October 30 2009: 12:24 PM ET
Source: RealtyTrac
Increase is between the second and third quarters of 2009.