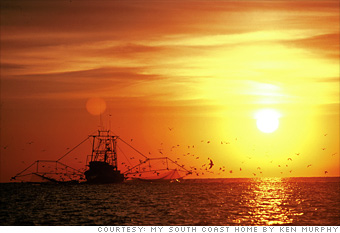 Foreclosure rate: One in 492 homes
Percent increase: 140%
Mississippi's Gulf Coast area was devastated after Hurricane Katrina in 2005, but the housing market received a boost as people scrambled to move back into the area.
"We couldn't even handle all of the housing needs," said Karen Glass, an area broker/manager at Coldwell Banker Alfonso. "Every day was a new heyday."
But 2009 is a different story. Those post-Katrina movers trying to sell their homes can only hope for only a fraction of what they paid, and Biloxians seem resistant to short-selling, Glass said."People are over a barrel, and they're walking away," Glass said. "They don't always realize we can negotiate a short sale. But they're waiting three months of not making payments before coming to us, and by the time it's on the courtroom steps it's usually too late for us to help."
Glass said she wishes some of Biloxi's 45,000 residents would come to her or another realtor before it's too late. But she thinks the area's foreclosure rates will continue along the same vein for the next several months.
Last updated October 30 2009: 12:24 PM ET
Source: RealtyTrac
Increase is between the second and third quarters of 2009.