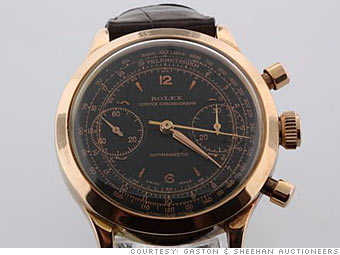 Estimate: $75,000 - $87,500

SOLD: $65,000
The man had a thing for watches. He owned dozens of them -- at least before he started doing time.
Ironically, this vintage Rolex "Monoblocco" chronograph wristwatch is called a "Prisoner Watch." The owner of the Rolex brand, Hans Wilsdorf, tried to boost morale of British POWs during World War II by selling them these watches on credit. The prisoners could pay for them after the war was over.
NEXT: "Bull" shirts