Many of Bernie Madoff's victims wanted a piece of the felonious financier. This week they could get one: Hundreds of his and Ruth's possessions went up for auction Saturday and they fetched nearly $1 million, a lot more than expected.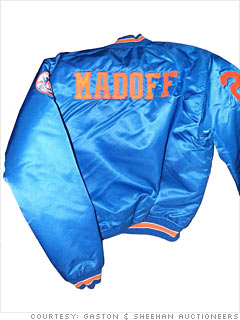 Estimate: $500 - $720

SOLD: $14,500
Mets fans might protest they had a bad enough season without having the team linked to the Madoff scandal.
But Bernie was a fan, and this satin jacket has all the team logos and the Madoff name stitched in large orange letters on the back.

When the Madoff story first broke, the Mets' owner, Fred Wilpon, reportedly lost a large fortune in the scheme, which he has since denied. More recent reports speculate that he may have even made profits.
This and the rest of the lots go up for auction at 10 a.m. on Sat., Nov. 14 at the Sheraton Hotel in New York City and online at Proxibid.
NEXT: Address sign