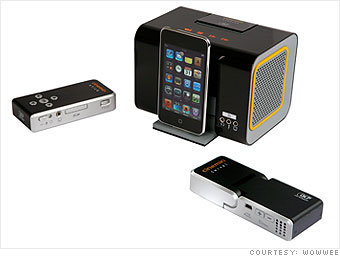 WowWee's Swivel will play well with its Cinemin Stick and Station.
Due out in the spring, the Cinemin Swivel is from the folks that brought us the robotic Elvis and the rolling Tribot: Carlsbad, Calif.-based WowWee Toys. The company's new Cinemin Swivel, the sister product to the Cinemin Stick, has a unique, adjustable 90-degree hinge that allows for better control of the projected image. I like this idea a lot.
One of the drags of portable projectors is that it can take a bit of tinkering with books, papers and even napkins to get a stable and level image. The pivot makes getting a good frame dead easy.
Approximately $299
wowwee.com

NEXT: Bug Labs BUGprojector