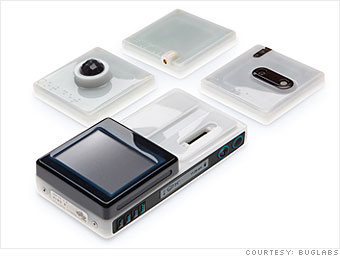 Bug Labs brings a modular approach to projects like the BUGbase, pictured here.
This unit is from the innovative folks at New York-based Bug Labs. Bug is the anti-Apple: It believes that the open-source movement has a place in hardware as well as software. The company doesn't attempt to patent its products, or keep its designs secret. Bug Labs simply makes a set of modular components that can be adapted by users.
Later this year, the company is set to roll out a pico-projector module that will have some nice features. It will be able to throw an image from just 8 inches away, it will offer stereo playback, and it will have a brightness of 9 lumens. The BUGprojector may not replace your local movie theater any time soon, but it will be a high-quality and highly flexible projector.
Price TBD
buglabs.net

NEXT: Samsung MBP200