Speeding around oil prices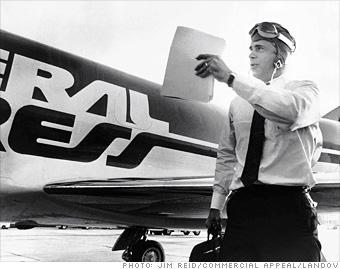 CEO Frederick Smith boards Federal Express Corp.'s first Falcon fanjet.
Company:
FedEx
Ticker:
FDX
Industry:
Shipping
Founded during:
The Oil Crisis of 1973
Entrepreneur Frederick W. Smith identified a pressing business need: important documents had to reach their destinations within one or two days. He incorporated a company called Federal Express in June 1971 and began operations in 1973 from Memphis International Airport. On its first night, in April, FedEx shipped 186 packages to 25 U.S. cities.
But all was not well on the international front, and within months, several Arab states had embargoed oil exports to the United States. While this news could have been disastrous for a company that relied on petroleum-fueled transportation, Federal Express stayed alive and became profitable in July 1975, when oil prices finally leveled off.
Status today: 2008 seemed at first to be a deja-vu replay of the company's nascent years, as soaring fuel prices hurt operating costs. But when prices retreated, FedEx faced a new whammy: The weakening economy has reduced demand for prompt shipping. Average package volume for daily ground shipping dropped 2% year-over-year for the quarter ended Nov. 30. Warning that FedEx faces "some of the worst economic conditions in the company's 35-year operating history," CEO Frederick Smith took a 20% pay cut for 2009 as part of a sweeping cost-cutting plan.

More galleries