A landmark business shuts down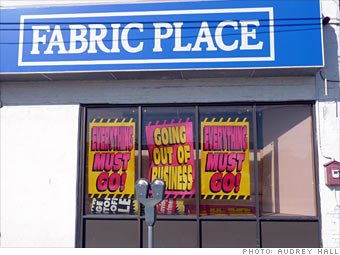 Ron and Linda Isaacson, former owners
The Fabric Place
In the autumn, one of Framingham's staple business closed its doors. The Fabric Place had been open since 1946. During its heyday, it employed 500 people at multiple locations throughout the Northeast.
Local residents murmured that the recession had killed The Fabric Place. But the owners say that wasn't the main culprit. The company started to shrink five years ago, with the rise of the Internet, as consumers moved toward e-commerce and toward cheaper, ready-made clothing and furniture purchases.
The Isaacsons saw the macroeconomic changes affecting their business, and they tried to adapt. As buyers gravitated towards premade clothes from China, they held classes to entice people to learn to sew. They changed their inventory: The Fabric Place offered custom upholstering but also began stocking ready-made items like window treatments.
Linda Isaacson says the final nail in the coffin was the housing crisis.
"People became more casual in their homes. They cared more about flipping houses than customizing them," she says.
The vacant store in the heart of Framingham's downtown now holds only memories of the once-bustling workroom and the shelves that used to be filled with hard-to-find items like roman shade chords and calicos prints.
"The customers were crying, they were so upset we were closing," recalls Ron. "We were a multi-generational store. Grandparents and grandchildren would come in together."

NEXT: A new business takes root