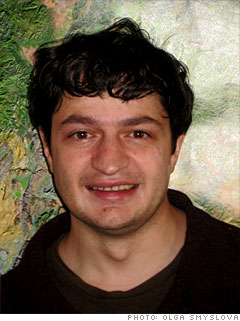 Joe Petviashvili
CEO, News Alpha
Foster City, Calif.
Launched: December 2008
Former job: Programmer, serial entrepreneur
In August, I dropped my previous business idea. Since 2007, I had spend massive amounts of time building a Web site that aggregated and ranked news articles, but that space was already very crowded. Investors weren't crazy about it and it really wasn't going anywhere.
But being a serial entrepreneur, I decided to tweak the idea and immediately launch another venture, this time just focusing on financial news stories. So we got WhoMovedMyStock.com up and running - just in time for the financial collapse. People like hearing good news about their stocks, but they can't bear to look when things are bad. Our traffic fell off with the stock market.
From that experience, my business partners and I discovered that the stock market is influenced by the news, among other factors. So in December, we developed algorithms that analyzed words in the news articles. Out of that came News Alpha. It's an institutional tool aimed at helping hedge fund managers.
None of this has been easy. I have financed these businesses with my own money, mostly savings from my 7-year stint as a programmer for another company. We are almost cash-flow neutral, as we just got our first paying client. But to move forward, we need more and that's tough in this industry. We can't rely on word of mouth - in the hedge fund world, people keep the best things for themselves - and selling our product is a challenge because usually hedge funds think the tools they're using now are just fine. Not to mention hedge funds are not doing well in this economy.
So, obviously, we've had to keep changing our strategy. Ultimately, we'd love to start our own hedge fund firm instead of selling our technology, but right now we're just trying to survive. Expansion capital would be great as it would enable my other two business partners to leave their jobs. But we're not going to give up, even if we don't get it. I know that there's a huge emotional challenge that comes with starting a business. But right now, we're going to push on and ride out the ups and downs.

More galleries