Putting stars in NASA's eyes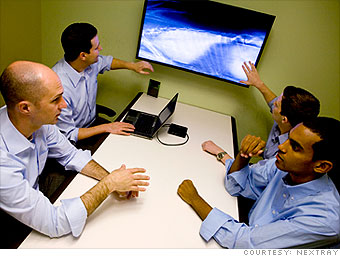 Clockwise from lower left: Director of Business Development Justin Cross, COO John Lerch, Director of Project Management Stephen Jarrett and financial analyst Allen Mask
2nd place:
NextRay
School:
University of North Carolina, Chapel Hill
NextRay's still-evolving imaging machine, which provides clearer X-rays with less radiation, incorporates technology that was developed about 15 years ago by company co-founder Dr. Etta Pisano and her colleagues. Yet the firm's fundraising efforts are just beginning, says director of business development, Justin Cross. With a second place finish at Rice, plus a $100,000 prize from the Greater Houston Partnership, Cross and his teammates, who include financial analyst Allen Mask, director of project management Stephen Jarrett and COO John Lerch, are off to a good start.
"But we're not here only for the money," says Mask. The team also returns to UNC with valuable input from the judges and great connections.
"The judges' real-time feedback pointed out chinks in our armor and helped us improve our presentation," says Cross. "They don't just tell you what you want to hear," adds Mask.
Of course it's not possible or preferable to act on every piece of constructive criticism offered. "We brain dump all feedback, and then determine what to keep and what to get rid of," says Cross. "We also have to consider what changes we can get into our deck in the time we have."
NextRay's impressive list of new contacts made at the competition includes the chief of space medicine at NASA, who is interested in the company's technology. "How often do you get to pitch to a room full of 15 NASA scientists?" asks Jarrett. Best of all, he adds, they really do want to help you. -Adriana Gardella

NEXT: An engine of change