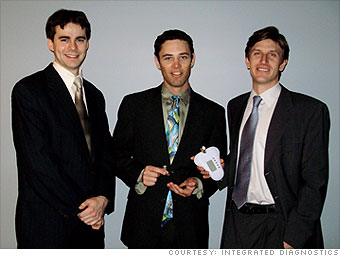 VP of Engineering Karl Skucha, VP of Marketing and Sales Tayson Siegel and President/CTO Octavian Florescu
4th place:
Silicon Biodevices
School:
University of California, Berkeley
Silicon Biodevices arrived at Rice with experience: It had "gotten killed" in three previous business plan competitions. "The judges actually laughed at us at the first one," recalls Octavian Florescu, the company's president and chief technology officer.
The team is trying to develop a handheld device that can read blood samples. The goal is for the device to instantly and accurately tell patients if they have HIV or other diseases, thereby eliminating the need for lab tests and follow-up appointments.
The questions they fielded about their technology at past competitions helped them hone their presentation. At Rice, they did well enough to squeak into the finals by winning the wildcard round in the semifinals.
Right before giving their final presentation, the team admitted that they didn't anticipate winning the grand prize, but that they were going to "just have fun" on stage. They landed fourth place overall and a cool $5,000 to help them run new tests and make a working prototype. In addition, they received $20,000 from NASA's earth-space life science innovation award.
Practicing in front of the Rice judges has prepared them for pitching their company to VCs in the San Francisco Bay Area - when they feel the technology is ready.
"It was not just the advice, but the questions that we had trouble answering that are helping us, like, 'What about insurance companies? How will you distribute?'" Florescu says. "We got clarity about how we fit into the market." -Emily Maltby

NEXT: A nano device's big hit