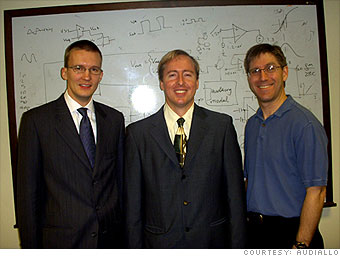 From the left to right: Aaron Nelson, Brian Degnan, Dr. David Anderson
5th place:
Audiallo
School:
University of Michigan
"Brian just makes stuff," Audiallo executive Aaron Nelson says of his fellow co-founder, Brian Degnan, a PhD candidate for electrical engineering at Georgia Tech. "And I happen to like business, so we're very complementary."
After four years of tinkering with a technology that could improve hearing aids, Degnan called Nelson, his past business partner and former roommate from his undergrad days at Rose-Hulman Institute of Technology. Three weeks later, the duo had a business plan and was ready to hit the competition circuit.
To most people, it's not difficult to have a conversation with someone in a crowded room because the ear can process the dominant sound while keeping other noises on a background volume. But those with impaired hearing struggle: Hearing aids can't make that distinction, which makes background sound overwhelming in noisy environments. Audiallo's wave signal processor aims to solve that problem.
The team came to Rice hoping to network and secure funding for the development work needed to miniaturize their technology to nanoscale, small enough to fit in a normal-sized hearing aid.
Degnan, an engineer whose father wears hearing aids, is confident that his experience working on several similar microchip projects will enable him to pull it off, with the proper capital. The challenge during the competition, he says, is that he felt that he was walking a fine line between being confident and cocky: "There are 70 people in the world who can do what I do."
The judges shared Degnan's confidence in the Audiallo vision, placing the team fifth in a field of 36 contestants and awarding it a $4,000 cash prize. He and Nelson also scored a second prize of $2,500 for the best intellectual property, which also comes with $12,500 in donated legal services to help cover the costly patent application process.
Most importantly, Nelson and Degnan made contact with judges who have experience raising capital in the semiconductor space, which they hope will lead to even greater funding opportunities and ongoing mentorship. -Emily Maltby

NEXT: Building a better Web crawler