Building a better Web crawler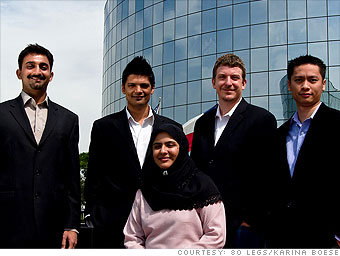 From left to right: Imran Charania, Shion Deysarkar, Aliya Virani, Brad Wilson, Toan Duong
6th place:
80legs
School:
Rice University
The students behind sixth place finisher 80legs, the first Rice University team to make it to the finals in the competition's nine-year history, felt confident heading in. "Initially, we thought we had a pretty good presentation," says Chief Strategy Officer Imran Charania. But there was room for improvement. Feedback from judges helped Charania and Chief Marketing Officer Shion Deysarkar refine their presentation, pointing out deficiencies they had overlooked. "We weren't addressing market size and scalability," Charania explains.
80legs uses grid computing technology to analyze content across the entire Internet. Using its analytics engine for very detailed, precise queries (like "are my ads being placed correctly on Web sites?"), 80legs anticipates that it will be able to rent its tools to customers such as market researchers and ad networks at a lower cost than its rivals.
Though Deysarkar describes the competition process as "grueling," he is grateful for the constructive criticism and insight 80legs received. "We've been introduced to a lot of very smart, experienced people, including, of course, VCs." Deysarkar is particularly appreciative of the help his team received from 2005 Rice Business Plan Competition winner (and 2009 judge) Nicholas Seet, CEO of Auditude: "He took a shine to us because his company, Auditude, can use our services." Seet spent more than an hour helping 80legs whip their presentation into better shape.
Looking ahead, Deysarkar says the biggest problem he and Charania face right now is the pile of work that has accumulated back at 80legs in their absence. "We'll need to catch up. When a company has a team of six, being down two men for two days is tough." -Adriana Gardella

NEXT: An international team's inspiring breakthrough