Sales riot for sweet treats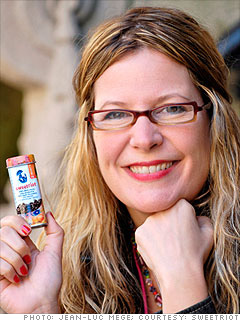 Sweetriot
New York City
Third place winner, FSB 2007 Business Plan Competition
Sweetriot produces chocolate treats for the health conscious and fair-trade fanatics - "rioters," as CEO Sarah Endline calls them.
You may have seen the bite-sized tasties in Whole Foods, where Endline has seen 100% sales growth each year since 2005. Lately, the brightly colored tins designed by local artists have started popping up in other outlets as well. "In the last six months we saw more and newer opportunities unfolding. We're ready for this growth," Endline says of her product's recent debut in Lifetime Fitness and Vitamin Shop stores, as well as in Nordstrom's cafes and at smoothie chain Robeks. Sales have literally gone through the roof: Sweetriot is now an in-flight snack on Virgin America airlines.
The company launched a new product for its chocoholic rioters in January: a portion-controlled dark chocolate bar called the UnBar.
Endline attributes Sweetriot's success to its progressive ideals. "Our message isn't that we're a low calorie chocolate. It's that we're saving the world," she says. "It's an optimistic message that you're not sacrificing anything. You're getting a cool and fun and whimsical product."

NEXT: Swapping out the old business