A bright smile dazzles the judges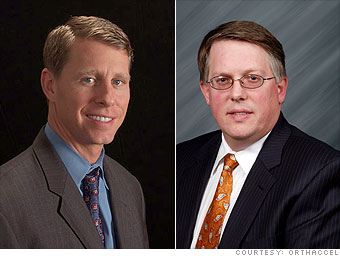 CEO Mike Lowe (left) and VP of Clinical Affairs and Technology Brent Tarver.
OrthoAccel
Houston
IP Powerhouse Award, Rice Business Plan Competition 2006
Business plan competitions don't just pay off for the top winners - they're also hotspots for networking with business veterans who might take an interest in your idea. Or buy it outright.
That's what happened to the OrthoAccel team following Rice's competition. For an undisclosed price, the team sold its intellectual property to a judge who has continued advancing the technology toward commercialization. None of the original founders remain, but today OrthoAccel has a working product: A mouth device that vibrates teeth and delivers pulsating forces that can expedite teeth realignment treatments, such as braces, when worn for 10 to 20 minutes a day. In animal trials, the technology cut the treatment time in half.
The first human trial just finished last month, and though the data is still being analyzed, OrthoAccel CEO Michael Lowe says the product - which doesn't yet have a name - appears to be both safe and effective. The company is now in its second human trial, which Lowe anticipates will result in FDA clearance. OrthoAccel can't sell in the U.S. just yet, but it has started the process of introducing its product to the European market and plans a full launch overseas in September.

NEXT: Cleaning up in the medical market