Cleaning up in the medical market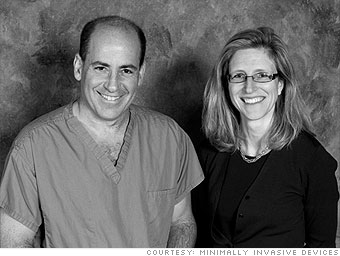 Co-founders Wayne Poll and Caroline Crisafulli
Minimally Invasive Devices
Columbus, Ohio
Third place winner, FSB 2006 Business Plan Competition
During laparoscopic surgery, the surgeon has to take time to remove and clean his lens multiple times, costing both the patient and the hospital time and money. When the Minimally Invasive Devices team presented its plan to the judges three years ago, their disposable defogging device was still in the development stage. But today, the product is on the market: 220 devices, now known as the FloShield, have been sold in the past three months.
"It's been a learning lesson," says founder and surgeon Wayne Poll. "You can't come out with a national launch - you need to come out with a slow launch to learn more about how to perfect it."
Tough FDA testing pushed the product's launch out to six months later than Poll expected. Since receiving FDA approval, the FloShield has already undergone two feature changes and will take on another revision in June. Also in June, the company will unveil its second product, the FloShield Plus, which has a water flush mechanism to remove debris on the lens, enabling the surgeon to continue operating.
The company is trying to raise another round of funding and acquire sales representatives around the country to get the FloShield into more hospitals.

NEXT: A test prep biz makes the grade