A test prep biz makes the grade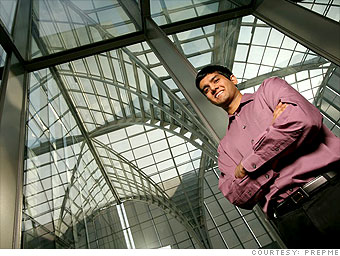 PrepMe
Chicago
First place winner, FSB 2005 Business Plan Competition
It's always standardized test prep season at CEO Karan Goel's company. The proven prep method has caught on quickly, and not just amongst parents and students: high schools across the country are signing up.
PrepMe doesn't just focus on the exam; it focuses on the academic achievements of the students. This way, the skills the students learn from their ACT or SAT prep work can be translated into better overall English, reading and math skills. Maine was the first state to get with the program, three years ago, and high schools in Illinois, Kentucky and Indiana have since signed up.
"We now give teachers feedback about how students are performing. Last year, the clients came to us and said that they liked what we were doing so much with the junior classes that they wanted us to expand that for the younger students," says Goel. "So we designed the PrepMe Essentials program for students not ready for the ACT or SAT but who need to get caught up to other students or just build skills at an earlier age."
That program launched this week. Fifty online tutors are on staff now, and they're compensated based on their students' performances. In addition, Goel has plans to add a handful of software engineers in July to keep operations running as more students sign on.
"Schools are realizing that test prep is not a luxury," says Goel. "Prep should be for everyone, regardless of the students' ability to pay."
PrepMe will continue to focus on the high school market for the time being, but Goel thinks launching new programs for graduate-level tests is in the company's future.

More galleries