A restaurant stays in the family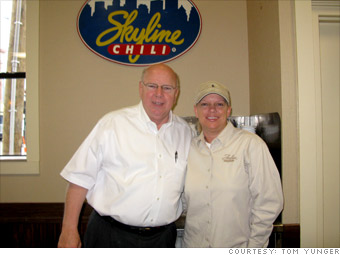 Borrower:
Tom Yunger
Owner, Skyline Chili of Clifton
Clifton, Ohio
Lender: Quadrant Financial Inc.
Lending volume: Quadrant made 14 small business loans in the first quarter of last year and the same number this year, but the dollar volume of its loans has risen, from $10.7 million in 2008 to $14.6 million this year.
Their story: "Someone must have been looking out for me," says Tom Yunger of his recent good luck. Six months before the economy tanked, he sold off his stock portfolio and decided to buy the franchised restaurant in which he'd worked for years as a general manager.
Yunger sought help from two banks, but didn't get very far. Then, in May, he approached Quadrant Financial on the recommendation of a fellow Skyline Chili franchise owner.
Quadrant, a subsidiary of First Chatham Bank in Savannah, Ga., is a nationwide SBA and USDA rural loans lender. "We began to see lenders pull back in May of last year," says Quadrant Financial CEO John Handmaker. "As the number of SBA lenders started to shrink, there was a greater opportunity for those that had taken a steady approach."
Skyline Chili continued bringing in customers even as the economy dipped, which boosted Yunger's confidence that his loan would go through. Still, despite his restaurant's track record and his extensive professional experience, Yunger knew his loan could be at risk as the recession deepened - but Quadrant was reassuring.
"As everything started falling apart with stock market and the news said there wouldn't be loans, they kept telling me that I didn't have to worry about it," he says. "There was a lot of paperwork that had to keep getting updated, but they helped me through - they really know the process and everything was set up so well."
In December 2008, Yunger received an SBA-backed loan for $1.5 million, which allowed him to buy both the restaurant and the property on which it sat. At age 62, he has no retirement plans beyond continuing to work side-by-side with his daughter and the 40 other employees in the restaurant.
"As long as I can walk, I'll be here," he says.

NEXT: Big money for small businesses