A faster, cheaper way to pump oil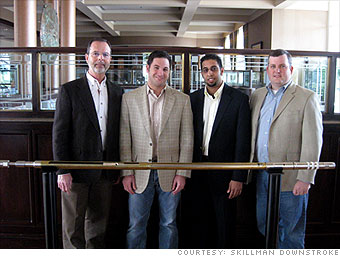 CEO Dave Phillips, CFO Kevin Shtofman, COO Mukesh Singh and marketing advisor Ben Horton
Company: Skillman DownStroke
School: Southern Methodist University
Team members: Dave Phillips, Kevin Shtofman, Mukesh Singh, J.T. Portwood
Concept: Skillman DownStroke uses the laws of gravity to increase the efficiency and reliability of oil, natural gas and water wells.
The team, based at Texas' Southern Methodist University, created an alternative to the "artificial lift" pumps predominantly used in oil and gas production. Unlike those pumps, which "lift fluid against gravity," Skillman's pumps displace fluids on the downstroke, allowing them to "flow freely" to the surface, says Kevin Shtofman, CFO of the fledgling company. Skillman DownStroke estimates that its pump model can increase production by 35% per day and increase energy efficiency by as much as 50%. Skillman pumps may also help prevent the three leading causes of pump shutdown: valve failure, rod stretch and corrosion.
Milt Skillman, a 17-year veteran of the oil industry, developed the pump in 2001. After noticing the difference in his pump's productivity, Skillman spent several years field-testing designs and attempting to make it in the market by himself. In 2007, Skillman teamed with veteran entrepreneur Dave Phillips, who took over as the company's CEO and recruited a management team that includes several SMU MBA and engineering graduate students.
Oil prices have been on a wild swing this year, soaring to record highs and then crashing back down, but Shtofman is optimistic about his company's prospects.
"It's a rough market, but I think people usually find the best product when the market is down," he says. "The biggest challenge has been figuring out the perfect way to market it to the industry. The oil and gas industry are not exactly the leading innovators. When it comes to change and new technology, they're usually pretty happy with the status quo."
Skillman DownStroke has already run several short field tests with pump prototypes, and in March, it began trials at a Department of Energy test facility in Wyoming. The results of that test will be highlighted in the team's presentation at the Rice Business Plan Competition.
Timeline: Skillman DownStroke has already completed the first two phases of its business plan, raising $500,000 to cover initial testing, prototypes and salaries for the team executives. The company is seeking $2.6 million for its third phase, which will cover the first year of operational costs and more extensive three- to six-month field tests. -Christina Crapanzano

NEXT: A secure chat zone for tweens