Unplug your adventures with off-the-grid gadgets.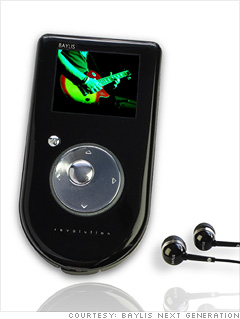 Eco Media Player Revolution
$155
You're stuck on the tarmac. Again. For hours. But while your fellow passengers fume and flip through SkyMall catalogues after their media players run out of juice, you're still multitasking: listening to Marketplace podcasts, watching excerpts from Sunrise Earth: Seaside Collection (a.k.a. your happy places) - and oh, yes, recharging your cell phone before teleconferencing into the Big Meeting you are so not missing.
How did you outlast everyone else? With your own two hands. The Eco Media Player Revolution lets you generate power with a foldout crank that drives an internal windup generator. The downside: One minute spent cranking this somewhat chunky device will make you look like a nerd. The upside: You've just gained 45 minutes of playback time. The Revolution stores thousands of files, thanks to 4GB of built-in memory, plus an expansion slot that supports up to an extra 16GB of memory via an external SD card. Other features include a photo viewer, a built-in microphone for audio notes, a phone charger, a transfer input jack (so your vinyl collection can live again) and an LED flashlight. -- David Holthouse

NEXT: Espresso on the go