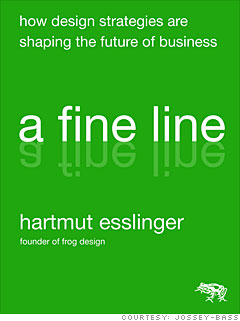 A Fine Line: How Design Strategies Are Shaping the Future of Business
By Hartmut Esslinger
Jossey-Bass, 208 pages, $29.95
Design matters. Just ask Target and Apple Computer, both of which compete on style more than price. And Hartmut Esslinger, whose clients have included Apple, knows good design. His book is an unapologetic manifesto for making design an integral part of doing business. It's also a name-dropping yet informative autobiography by an entrepreneur who built his small business, Frog Design, into a global powerhouse -- and lived to tell the tale.
The author isn't modest about his considerable accomplishments, but his willingness to roll up his sleeves and delve into manufacturing and other nitty-gritty topics compensates for any braggadocio. It's no wonder he chooses to quote Henry Ford on innovation: "If I'd asked people what they wanted, they would have said faster horses."

NEXT: 'What' is important