Safeguarding the food chain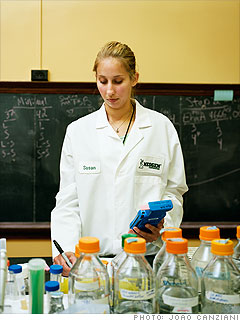 Most consumers rely on government agencies such as the Food and Drug Administration and the U.S. Department of Agriculture to detect and resolve food safety issues. Farmers and food processors look somewhere else: Neogen (
FSB 100 #21
).
For nearly three decades, Neogen has offered a variety of inexpensive diagnostic products that test for contaminants in food. Although about half of the company's annual revenues come from the sale of veterinary equipment and animal vaccines, Neogen credits growing food safety concerns with pushing its third-quarter revenues up a record 11%, to $27.8 million. Annual sales hit $102 million in 2008, up from $86 million the previous year.
"The industry is getting a lot of publicity due to the new administration's vows to spend money in the food safety area," says James Herbert, Neogen's founder and CEO.
Neogen outdoes its competition by providing comprehensive testing for various types of contaminants, from antibiotics to soy. "Neogen is really the only pure-play food safety company," says Scott Gleason, an analyst who covers the company for Stephens Inc.
Read more about Neogen's plans for its clients' chickens, dairy cows and pigs.

More galleries