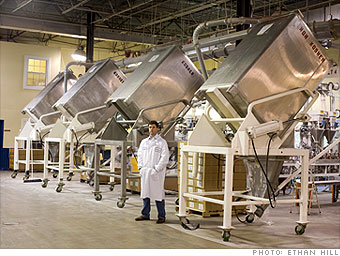 Medifast's new distribution plan finally paid off with fatter revenues.
This time last year, CEO Mike McDevitt was
waiting to reap the rewards
of Medifast's new business model. The company, which sells diet food and runs brick-and-mortar weight-loss clinics, once distributed its products through physicians. But in 2003 McDevitt, now 31, launched the Take Shape for Life program, recruiting independent consultants to sell diet meals using multilevel marketing techniques.
It worked. Revenues from the new initiative now make up about half the company's annual sales and rose 92% in first quarter 2009 over the same period last year. (Sales at Medifast's clinics, which account for 3% of business, dropped 24%.) And Medifast climbed from No. 47 to No. 26 on the FSB 100.
"It took us several years to learn the new business model," says McDevitt. Doctors now send patients to the Take Shape for Life home page or one of 25 health clinics to buy meals. They receive compliance fees, which are set by factors including the number of meals patients buy.
Industry analysts are taking note. Scott Van Winkle, a research analyst with Canaccord Adams in Boston, attributes Medifast's increased profitability to its new sales model. Van Winkle explains that multilevel marketing programs have historically done well during recessions because unemployed workers need alternative sources of income.

NEXT: Weak harvest