The naturals: Kiss My Face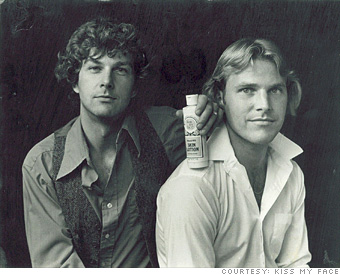 Bob MacLeod (left) and Steve Byckiewicz
Bob MacLeod was a talent agent and Steve Byckiewicz a flight attendant when they ditched city life for a farmhouse and a fresh start. Unlikely entrepreneurs, they were mostly interested in gardening and entertaining.
"Steve and I weren't exactly visionaries. We moved to a 200-acre farm in Gardiner in 1980 because we couldn't afford to stay in Manhattan," MacLeod says. "We were both vegetarians and grew most of our own food, but soon began running out of money. We started selling our produce to health-food stores in nearby Woodstock, Kingston and New Paltz. After we took some produce to sell in Manhattan, we realized we could get three times as much there as we could upstate, so we began selling in the city once or twice a week."
One day, while shopping in Woodstock, the pair spotted a big basket of rough, earthy-looking Greek olive oil soap. The label listed a SoHo importer. MacLeod and Byckiewicz drove into Manhattan, bought several cases, repackaged it in old olive oil tins and added labels that read, "Pure Olive Oil Soap of Greece."
"We brought it to health-food stores and sold it along with our produce,"MacLeod says. "Within days two stores requested more, and one had sold out. We were onto something."

NEXT: Going natural pays off