Our fearless reviewer seeks a Bluetooth earpiece that won't make him look like an idiot in public.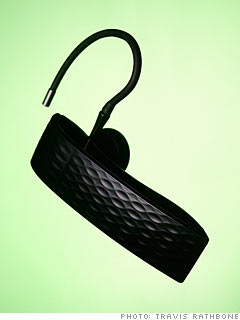 Jawbone Prime
$130
Weight: 0.35 ounces
Pro: Looks great; conducts sound through your skull
Con: Volume control can be tricky to operate
As the CEO of
Appletree Answers
, a call-center company that serves 7,000 customers from 13 offices across the U.S., I spend uncounted hours on my cell phone. I've been searching for the ideal Bluetooth headset ever since the in-ear devices first came out earlier this decade -- without success.
Naturally, I want a comfortable headset that provides great sound and won't drop calls. I would gladly pay a couple of hundred bucks (or double the average price) for a model that's effective and comfortable and has a long battery life. It must be easy to put on and take off in a hurry, because the last thing I want is to wear an earpiece all the time like the dorks I see in Starbucks. Resembling a cyborg is not cool.
I tried five headsets released in the past year: the BlueAnt Q1, the Jabra BT2080, the Jawbone Prime, the Motorola Endeavor HX1 and the Plantronics Voyager Pro. Pretty much the best of breed for their respective manufacturers, all came with clear, detailed instructions and a wide selection of ear loops, making custom fitting possible. Battery life was similar across the board; you're probably going to have to charge these headsets overnight, and you can expect them to deliver between two and four hours of talk time a day.
NEXT: Testing with the top down