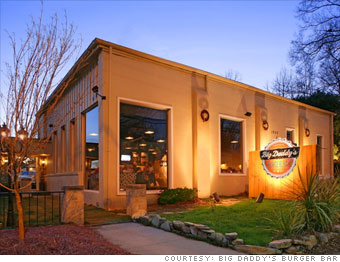 1626 East Boulevard
Currently: Big Daddy's Burger Bar
Past occupants: Jaimama Restaurant & Bar (2005-2007), Vidalia & Grapes (2000-2005)
Three different tenants have launched new restaurants at 1626 East Boulevard in the past decade.
In 2000, tapas restaurant Vidalia & Grapes opened its doors. It drew strong reviews, but founder Tim Henderson sold the business in 2005, and the spot soon turned into the Caribbean-themed Jaimama Restaurant & Bar. That lasted two years. Next up at bat was Frank Scibelli, who gutted the space and turned it into Big Daddy's Burger Bar.
The curse may be broken: Two years in, Big Daddy's is going strong.
Scibelli chalks the previous failures up to high prices and inconvenient hours. The address itself is a winner, in his view: "It's a great location, and no one was doing a particularly good job of running it," he says. "The reason that we had to do such drastic renovations to the restaurant was that it was poorly laid out. It needed to be made an efficient restaurant. The patio had to be permitted and approved after we had opened."
Scibelli is a veteran on the Charlotte restaurant scene. He opened his first place, Mama Ricotta's, when he was 27. Seventeen years later, Mama's is still thriving, and Scibelli has expanded his mini-empire to include five restaurants and a catering company.
To meet the demands of a family-friendly neighborhood, Big Daddy's focuses on a "gourmet burger" concept -- which also draws a large lunch crowd. The 2,000-square-foot restaurant can seat 110 people.
"I thought it would be fun to do a greasy-spoon cheeseburger place in a culinary way," Scibelli says. The restaurant dresses up its burgers with ingredients such as Maytag blue cheese and applewood-smoked bacon.
Big Daddy's concept is a hit. Residents say the place is frequently packed, and the local newspaper deemed it a contender for "best burger in town" bragging rights. -Christina Crapanzano

NEXT: New York City