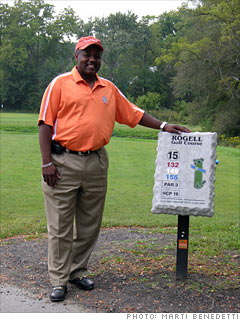 Lindsey Mason III, golf course pro and general manager of the New Rogell Golf Course, at the 15th hole.
The historic 18-hole New Rogell Golf Course sprawls over more than 120 acres in northwest Detroit along the Rouge River. It was purchased by Greater Grace Temple from the city of Detroit for $2.1 million in 2007. It is the only African American-owned golf course in Michigan, and one of just six in the country.
"It's a challenging course," says Lindsey Mason III, Rogell Golf Club's pro and general manager. "Since the church bought it, it is better maintained. We increased marketing and attendance is up."
The Donald Ross-designed course was built in 1914 by a group of Jewish citizens, led by famed Detroiter Max Fisher. It originally was called the Phoenix Golf Club.
The hilly course is reasonably priced -- $15 for 18 holes and a cart on weekdays, $32 on weekends -- and draws local residents, organization events and tournaments.

NEXT: Local housing