Targeting buyers - without insulting them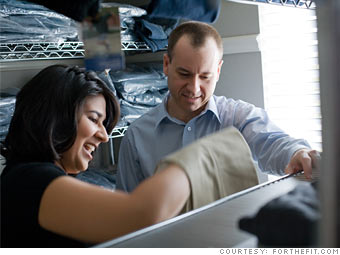 ForTheFit founder Consuelo Bova with her husband (and customer) Jeff.
The product: ForTheFit.com
Sounds simple enough, at first: It's a retail clothing store for short men under 5'9".
But then it gets more complicated: Clothing called "big and tall" is well established, but a special line of clothes for guys who are -- um -- small and short? This is new territory.
"I can't begin to estimate the number of times I've been asked, 'Why not just shop at a regular store or get things tailored?'" says Consuelo Bova, a Tampa, Fla., resident who launched her company in 2006. She has many arguments for why shorter men should shop with ForTheFit: "Our clothing is proportioned for shorter men, costs no more than similar apparel at department and specialty stores, and arrives at your door in a size that fits off-the-rack. These sizes are not available in regular stores, and tailoring is not only costly and time consuming, but rarely achieves as perfect a result as a garment created with the correct proportions to begin with."
But it's tough for Bova to even get the chance to impress customers with that message. "We suffer from an unpopular adjective," says Bova, whose husband, Jeff, is 5'7" and an enthusiastic business partner. "We try to avoid references to 'short men' as much as possible."
What the experts say: "One of the key components for great marketing is to 'own' a word or a concept in the mind of the consumer. Think 'BMW equals performance' vs. 'Volvo equals safety,'" muses Maria Cronley, an associate marketing professor at Miami University whose research specialty is consumer behavior. "FortheFit.com has a great opportunity here; they just need to find the right 'word.' They will figure this out."
"I don't think there's anything wrong with the word 'short,'" says Goodgold. "It's not a four-letter word. It's a great five-letter word." She also suspects that if a man's height is, say, 5'1", "there is probably nothing he hadn't heard before. [He] probably has a thick skin."
But if Bova disagrees with that assessment, she might appreciate Calloway's idea: Avoid using the word "short" but nonetheless adopt a "badge of pride route" and create a tagline along the lines of "clothes the perfect size for guys the perfect size."
While ForTheFit wrestles with the right adjectives, Cronley has another suggestion. "Emphasize the online convenience factor they bring to the consumer," he recommends. "Research shows that men don't enjoy shopping for the sake of shopping, as compared to women, and that men shop more online and spend more online than women."

NEXT: Beyond the banner ad