If it's good enough for Europe ...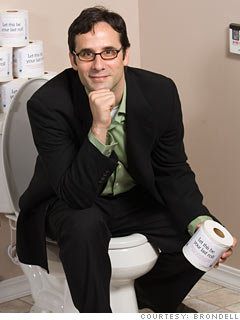 Scott Pinizzotto, promoting the Swash
The product: The Swash
Sounds simple enough, at first: It's a high-tech toilet seat that eliminates the need for toilet paper.
But then it gets more complicated: The toilet has a built-in bidet -- and as you may know, many Americans don't really get the concept of a bidet. (Already lost? A bidet is a type of sink, popular in Europe, the Middle East and many other places around the globe. It's used for washing the most private area in the lower regions of one's body.)
Scott Pinizzotto, CEO of San Francisco-based company Brondell, says it gets even more complicated. He's got to "not only communicate this delicate subject to the consumer, but also create methods of doing so that are acceptable to retailers."

What the experts say: Goodgold says that a light-hearted marketing approach could be the way to go. "They could acknowledge that this is an embarrassing topic, but tell the consumer that they're going to talk about it anyway," she says. "This may be one case where potty humor works."
"Actually, explaining this product isn't that difficult," says Cronley. "It's a personal hygiene cleaning shower, which eliminates the need for environmentally damaging toilet tissue."
But what Cronley sees as extremely challenging is trying to get people to give up toilet paper, given that it's a well-established habit ingrained in our culture. "Time and strong word-of-mouth is what's going to be needed for this product."
If minds are going to be swayed, the public will need to try the product -- however improbable that sounds. "The company might want to try to think outside the box on this one and think about some type of buzz marketing campaign aimed at generating word-of-mouth," Cronley says. "How about booths where people can try the product in Times Square, at the Super Bowl, or at large contractor building shows?"
Finally, Brondell should boast of their product's lineage. "Since the bidet is traditionally more popular in Europe, I'd use that angle to gain credibility for the Swash," Calloway suggests. "Possibly do a 'what do they know that we don't know?' campaign that makes the case for using a bidet. For example, 'Europeans have been using bidets for years -- here's why -- and you start listing reasons...'"
Her Swash advice sums up what all marketers of the unsellable are aiming at: "You want the customer to read or hear the pitch and say, 'Well, that makes perfect sense.'"

More galleries