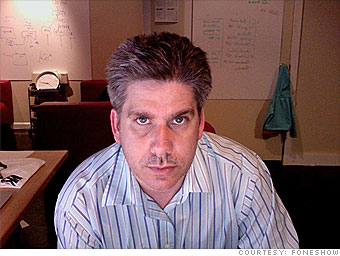 Foneshow
Portland, Maine
In the fall of 2006, three friends kicked in $25,000 each to bootstrap a new company -- Foneshow, in Portland, Maine -- which works with the radio industry to distribute short audio clips to cell phones. Syndicated talk show hosts, for example, can send out small segments from their shows each day to subscribers, using Foneshow's technology.
After about a year, the founders went through a small round of venture capital funding and raised $1.5 million. But that was back when VC money was still fairly easy to get. As the company worked its way through that cash, the founders knew they would need more funding. "It was late 2008, a terrible time to try and get VC money," says Erik Schwartz, 44, Foneshow's CEO. "And it was exacerbated a bit because we're in Maine, and VCs generally invest within a short drive of their investment." One Silicon Valley venture capitalist said he would only invest if Foneshow moved to the West Coast.
A friend suggested that Schwartz look into grants from the Maine Technology Institute, a private nonprofit funded by the state that makes grants of up to $500,000 for companies developing new technologies. Schwartz and his partners completed the grant application themselves, looking at MTI's other successful grant proposals as a guide.
The biggest difference between applying for grant money and trying to get venture capital was the amount of information required. "In the VC world, they want as much info as they can possibly get to make a decision. In the grant-making world, they want specifically what they want," says Schwartz. "We had a bunch of support letters and were told we had to get rid of some, because there's a page limit on the proposal."
In July, Foneshow received a $500,000 grant from MTI to use to continue developing their technology. "The nice thing for us is they don't get involved in running things and the money is non-diluted -- you're not giving up equity for it," Schwartz says. "We didn't need advice. We already had good advice and operational guidance. So if all you really need is money, grant money is better money."

NEXT: Unleashing artistic talent