Training staffers to lead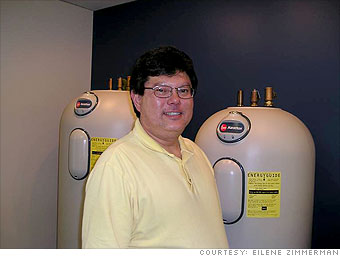 Water Heater Innovations
Eagan, Minn.
Water Heater Innovations, a small manufacturing company outside of St. Paul, Minn., makes highly efficient plastic water heaters -- yes, plastic. They're the only ones of their kind on the market.
The heaters use a patented insulation layer to keep heated water hotter longer, and even have such a unique, space-age design that customers sometimes keep them out in the open, rather than hidden away in a basement or closet. The company also offers storage tanks for the geothermal industry.
Water Heater Innovations' need wasn't for new or better products -- its 2008 sales were up 40% from the prior year. What the company needed was better communication among employees, says general manager Jeff Scholten.
With 50 full-time employees, Water Heater Innovations (a subsidiary of Atlanta-based manufacturer Rheem) qualified for a grant from Enterprise Minnesota, a nonprofit that administers the state-funded Growth Acceleration Program for manufacturers with fewer than 250 employees. GAP offers matching grants to help small manufacturers improve business processes through training and strategy development.
Water Heater Innovations received a grant March 2009 to implement an Enterprise Minnesota course called Social Styles, which trains employees to communicate and work together more effectively. "This was an area that needed work," says Scholten. "We had a lot of fundamental miscommunications."
The total cost of the program is $20,000, and the grant paid for half; the state of Minnesota also gave the company a 50% refund on the remaining costs. Scholten says the training has enabled employees to understand each other and feel more comfortable raising difficult issues.
"I have seen some people in the company step up and take leadership roles, teaching and guiding others, in a way they didn't before," he says.

More galleries