These 6 businesses landed grants to launch and expand. Here's how.
Seed money for a medical breakthrough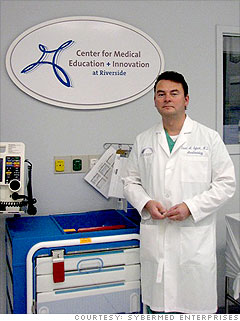 SyberMed Enterprises
Columbus
As an anesthesiologist working in operating rooms, David Sybert often found himself dealing with intravenous tubing that tangle on equipment or on the patient. Sometime that tubing would get pulled out of the patient's arm and have to be reinserted -- a time-consuming and often painful process.
"The gold standard for securing an IV tube to a patient's arm has always been plain old tape, but blood and sweat makes the tape fall off," Sybert says. "You get EMS personnel rescuing someone from a car accident, and the patient is thrashing around and they lose the IV."
Sybert, 44, came up with a simple way to secure the IV without tape: a Velcro-type strap that includes an area with adhesive, where the IV tubing is secured so it won't move. The strap holds the needle and tubing in place around the arm. His invention, the Linebacker, was so low-tech Sybert thought that if he applied for grant money to develop it, he would be "laughed out of the room."
Then he and his brother Curtis J. Sybert -- the other partner in his business, SyberMed Enterprises -- learned about TechColumbus, an independent nonprofit that offers grants and loans to the region's tech startups. Since TechColumbus began in 2005, it has made grants totaling $1.35 million to 60 tech startups in a 15-county region in central Ohio.
SyberMed Enterprises received a $50,000 grant from TechColumbus in October 2007. That enabled the company to hire consultants to do market validation studies. "Their research showed an immediate need for the product, and we used the grant money to retain one of the consultants, who helped us develop a strategy to enter the market," Sybert says. The company is now in talks with Cardinal Health about nationwide distribution.
NEXT: Money to grow in Maine