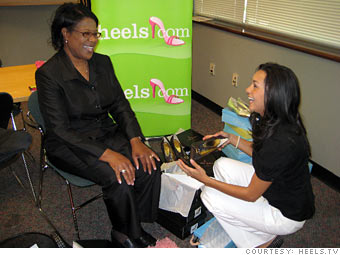 Suleika Acosta (at right) with a client at Heels.com's shoe giveaway.
From February through March, Heels.com, a Charlotte, N.C.-based online retailer, set up tables at job centers. There, staff gave away hundreds of professional shoes to job-seeking women in cities including Charlotte, N.C.; Columbia, S.C., and Atlanta.
"We surprised women with free, brand-new pairs of shoes to help give them a boost for interviews," says Suleika Acosta, director of Heels.tv. "In our eyes, it was a small gesture that could give these ladies the confidence and encouragement they deserved."
The company's 10-member staff heard encouraging stories on-location: One woman had never owned a pair of new shoes. The giveaway led to gratitude later, too. "We received a few e-mails from women who had found jobs and thanked us for helping them in the process in such a small but important way," Acosta says.
Local television affiliates in Atlanta, Greensboro and Charlotte covered the giveaway. "Coverage aside, the most rewarding part was seeing the looks on these women's faces," Acosta says. "It was also a breath of fresh air to be a part of positive news at a time when so many negative stories were leading the news."

NEXT: Free martial arts classes