4. Free martial arts classes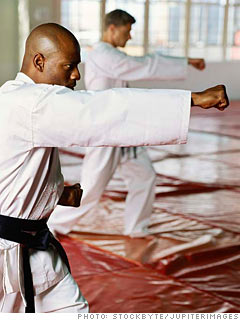 Back in April, Patrick Cunningham invited the local unemployed to karate-kick their woes at his martial-arts studio, Bayonne Karate. The small studio in Bayonne, N.J., offered an aerobic workout, Bruce Lee style, every Tuesday and Thursday morning for the next three months.
Cunningham says the transformation over that hour was dramatic. The 10 participants came in tired and apprehensive, and left with a smile (although a little sweaty). "They felt good afterwards," he says, "they felt positive and ready to go out and look for work."
That attitude reignited their motivation, Cunningham says. "Most found some sort of employment," Cunningham says. One of the biggest benefits, beyond the feel-good results? The positive word-of-mouth from the program members. Two participants from the original free course enrolled in ongoing classes.
Cunningham's only regret: "I could've promoted it a lot more," he says. So he's thinking of running it again and doing more to get the word out.

NEXT: Free haircut