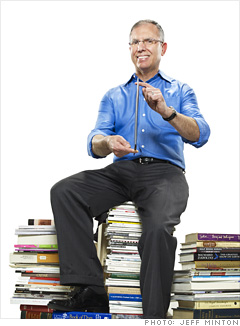 Plastic Logic CEO Richard Archuleta offers a profile view of the Que.
Plastic Logic
Mountain View, Calif.
Plastic Logic's much-anticipated electronic reader, the Que, is slated for release in January 2010.
On the surface, much about the Que seems familiar. Like Amazon's Kindle, the Que displays pages in grayscale E-Ink and will allow users to download books and magazines wirelessly Like the iPhone, the Que features a single physical button that takes you to the home page. Instead of the Kindle's awkward keyboard and page forward/back buttons, it has a pop-up touch-screen keyboard and navigates pages with the flick of a finger.
But that's where the similarity to current e-readers ends. To see what's new about the Que, look under the hood: There's no silicon in the screen. All its transistors are made of plastic. This e-reader is fundamentally flexible, unlike the Kindle, with its breakable glass screen.
Disappointingly, Plastic Logic has played it safe by encasing the flexible screen in a more rigid plastic case. "We did prototypes that were rigid on one end and floppy on another," says Anusha Nirmalananthan, Plastic Logic's product manager. "We found users had trouble getting used to that."
Still, the Que retains a significant "wow" factor. It is legal-paper size but weighs a mere pound, three ounces less than the comparable Kindle DX. Plastic Logic regularly drops the Que on concrete, and it survives. The battery will last for days on a single charge. Plug it into your computer and you can download any PDF or text file. The device can hold thousands of PDFs and tens of thousands of books.
Archuleta is pitching the Que squarely at business users. It will offer the ability to annotate documents. You can type on virtual sticky notes or draw on the screen. (The Kindle can do none of these things.) The Que's price point hadn't been announced at press time but will likely fall between $400 and $800. -Chris Taylor

NEXT: Happy hour for fish