Less money = less gourmet food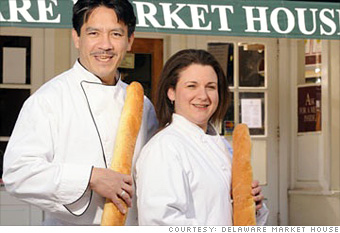 Edgar Alvarez and Kim Katz Alvarez, Delaware Market House's final owners
Delaware Market House
Gladwyne, Penn.
Opened: Early 1900s
Closed: March 2009
Closing gourmet food market and catering business Delaware Market House in March was a tough decision for Kim Alvarez and her husband Edgar, chefs who took over the company in 2004.
But Alvarez said that demand for gourmet foods started declining as far back as late 2007, when people's purchasing habits began changing because of economic pressures.
"We couldn't survive anymore," Alvarez said. "People weren't buying as much as they used to.
Kim and Edgar Alvarez won more than 10 awards from local magazines and organizations for their gourmet food in the five years they ran the market, which has been a mainstay of downtown Gladwyne since the early 1900s. Kim Alvarez had been a chef there since 2000, and the two purchased Delaware Market House when the previous owner decided to sell.
Fortunately, the Alvarezes have found another venue for their talents. Along with a business partner they met through a mutual friend, the couple in December opened Avenida, a restaurant in nearby Mt. Airy that will feature the Latin American cuisine of Edgar Alvarez's native Guatemala.
"Things really fell into place, which was great," Kim Alvarez said. "One door closing and one door opening is the ideal situation."
Avenida also has given them a chance to hire back a few of the 15 employees that lost their jobs when Delaware Market House closed.

NEXT: A landmark from an earlier era